Stem Plus Cryopreservation
Stem Plus Cryopreservation has been found with a commitment to make cord blood banking affordable for parents; without compromising the service and quality.
Setting the Industry Standard
Stem Plus Cryopreservation maintains the highest possible cord blood standards in the industry. They are processed according to cGMP, DCGI, FACT, and AABB standards.

Our lab is licensed with Sangli-Miraj-Kupwad Municipal Corporation, Department of Health. DCGI approval is applied. The lab of Stem Plus Cryopreservation is run by one physician and two PhDs. The physician is a specialist in hematology (blood diseases). One of the PhD is a specialist in fetal stem cells, and cryopreservation of human tissues and the other is cell culture expert. This broad range of experts involved in our cord blood bank ensures that every aspect of the collection, processing and long-term cord blood storage is handled with the utmost care.
Cryopreservation
Cells should be cryopreserved by using reagents approved for human use (Xeno free). Non-human animal products are not used.
Storage Temperature
After processing, cells are stored in -196°C temperature. Cells are stored continuously in liquid nitrogen tank equipped with an audible alarm. A backup system is placed in the case of unexpected failures.
Length of Storage
The cells can be stored at -196°C for indefinite time. Therefore, there is no expiry date assigned to the cord blood stored in liquid nitrogen. Cord Blood unit is available for life time. Your child's cord blood will remain safely cryopreserved in our laboratory.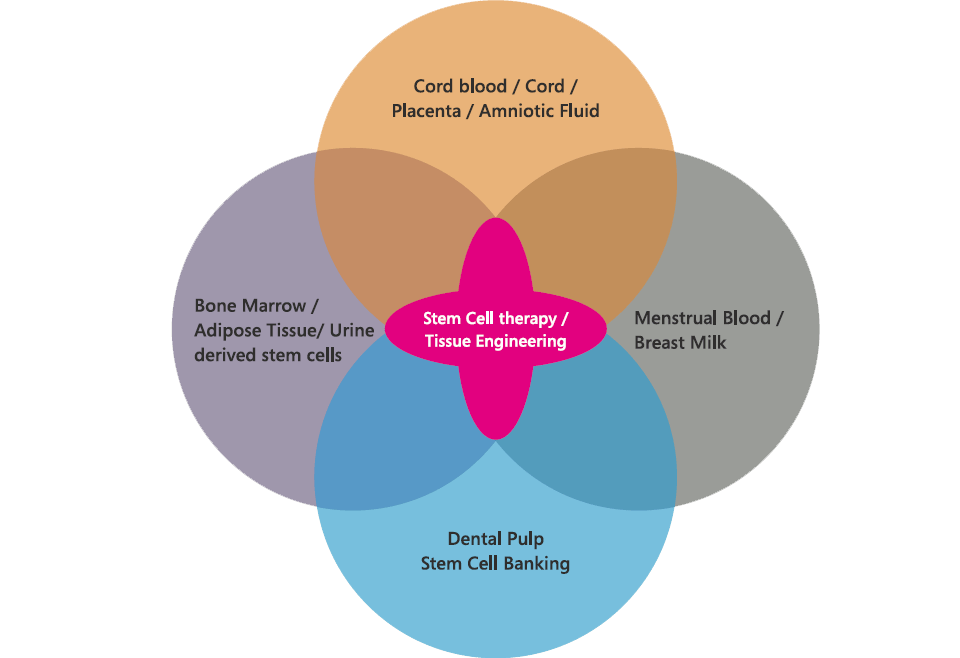 THE FUTURE PROMISES THE USE OF STEM CELL THERAPY IN TREATING
MANY MORE LIFE-THREATENING DISEASES.